COVID-19 gave rise to a new era of technology. All businesses have changed, and every sector is using a digital platform. With that, education is becoming more digital, and schools are opting for new technology to empower their management systems.
According to UNICEF, schools for more than 168 million children worldwide have been closed for almost a year. In India, 1.5 million schools were closed due to the pandemic.
Fast forward to today, the education industry has adopted a new learning system that has changed the classroom experience and is adopting digital ways of teaching and managing school systems.
Also, digital transformation has increased competition among education sectors. Most schools are implementing cloud-based ERP solutions to improve their school management system. Cloud-based ERP systems are economical, efficient, and change-making solutions.
If you want to understand how cloud-based ERP solutions can benefit your school management systems, continue reading this blog.
Why should you use cloud-based ERP systems?
Cloud-based school management systems reduce efforts and capital expenses and increase the productivity of schools. It makes the schools future-ready by providing a complete solution from conducting exams to managing all administrative activities from anywhere. Now, let us learn the reasons why cloud-based ERP systems are beneficial to school management systems. Cloud-based ERP systems are:
Highly-Economical,
Promotes Efficiency,
Provides Data Security,
Provides Performance Reports,
Keeps Transparency with Parents,
Monitor Student Activities,
Effective Learning Material Sharing,
Automate Admission, and
Automatic Fee Management.
Now, let us discuss all the points in detail.
Highly Economical: Cloud-based ERP systems reduce the extra cost involved in manual operations. Manual operations cost a lot as schools spend a lot of money on stationery like registers, spreadsheets, manual records, bills, and other things. Compared to manual operations, cloud software operations are more economical. Using school management software includes:
Core office applications,
Push-notifications,
Schedule features,
Online admissions software and many more.
You might think that if all these many services are under one package, then Cloud-based ERP systems must be costly. Well, no.
These are highly cost-effective as you do not have to buy servers, CPUs, or GPUs running on-site at all times.
Promotes Efficiency: Cloud-based ERP systems replace the monotonous jobs of writing reports and managing registers by allowing schools to automate the daily routine.
The school authorities can access school systems anywhere and anytime. They can stay informed about what is happening in the school, check the timetables, and prepare lesson plans. Also, cloud-based ERP systems make it easy for teachers to collaborate and coordinate with other teachers, and they can share information at any time.
Furthermore, there is no issue of duplication of work. Also, it is easy for teachers to work online and conduct e-learning sessions.
Provides Data Security: After all, who is not afraid of being attacked by hackers? Data leakage is one of the biggest problems of current times. Every industry wants to stay safe, and cloud-based ERP systems enhance understanding of the concerns and enhance data security. Cloud-based systems not only keep your data safe but also keeps it safe from any risk of data loss. These systems automatically keep the backup of your data and use centralized databases lowering the risk of data loss from local servers.
With that, these systems maintain privacy by giving teachers role-based access. Teachers and other staff members can only view the relevant data. In simple words, one can only access data of their department.
And only the authorized staff is allowed to access the sensitive data. Also, you can access the data and all applications from any device, such as laptops, tablets, and more. You can also change your role-based login credentials by requesting a service provider.
Provides Performance Reports: Cloud-based ERP systems automatically generate customizable report cards of their students. The teacher can change the reports if they wish to or if there is a slight mistake in the report card. These report cards help teachers to evaluate the overall performance of students. Also, these reports tell where students need improvement. Hence, these systems are helping teachers and school authorities understand whether their learning process is effective.
Keeps Transparency with Parents: There has always been a concern regarding student monitoring. It is hard for parents to monitor the activities of their children. In home-based schooling, the intensity of tracking activities of children has increased, especially when both parents are working. In such cases, cloud school management software is of great help. Due to remote access to Cloud-based software, it has become easy for parents, even if they stay out, to track the activities of their children.
Parents have a separate dashboard that notifies them about the activities of their children at school. For example, if children are not attending classes, their parents will automatically receive notifications.
Monitor Student Activities: As schools are opting for online classes, and hard to track if the student is or not attending the classes. Cloud-based ERP school management systems can monitor the activities of the students and know if a student is attending, coming regularly, or is bunking the classes, etc.
Not only that, you can monitor other activities of students too. The teacher can easily spot a disciplined student and review the discipline rates of their students. Also, teachers can track, review, and score assignments through the platform. Also, teachers can check the exam answer sheets of students and can evaluate their performance.
Effective Learning Material Sharing: The cloud-based ERP systems make it easy for teachers to share the learning content and complete courses in the virtual classroom. Teachers can upload teaching material in any format like eBooks and various documents in formats like pdf, docs, videos, info-graphics, and other materials.
Also, all students can access the learning material anywhere at any time. They can access the material from various devices like laptops, mobiles, tables, etc. They can download the soft copy of the material and can keep it with themselves or take the printouts. These systems helped eliminate the replacement or misplacement issues of notes. These systems enhance stress-free learning and teaching.
Automate Admission: The admission process has always been hectic for parents, students, and school management. Parents or students go to school, fill out the admission form and do all the hectic formalities and paperwork. It is a very long and time-consuming process.
But with cloud-based systems, it has become easy for students and parents to take admissions in school. Now, parents or students only have to visit the online portals of academic institutes if they want to admit their children. All they have to do is to fill in the details and pay the admission or registration fee online. And parents get all the updates through email and mobile message alerts. By calling the help-desk numbers, parents or students can connect with the institute if they need any other detail.
Moreover, parents and students can access the admission portal from anywhere at any time, making the process easy and less time-consuming.
Automatic Fee Management: Paying school fees is another hectic task between parents and school management. To pay school fees, parents go to school or need to handover it over to their children. Handing the school fee over to children can be risky as sometimes children end up losing the fee money. But with cloud-based systems, it has become easy to pay the school fee. Also, it is a stress-free process of fee payment.
It can automatically calculate deductions, concessions, scholarships, etc. The cloud-based systems can generate automatic reports of the paid fee and dues. Also, it can create fee receipts and send payment alerts to parents or students. These details are stored in the cloud system forever with no chance of any discrepancies.
Also, all details of the paid fee or the pending dues are stored forever in the cloud-based systems. And the school authority can access the records or data at any time if required.
Types of Cloud-based ERP system software:
Let's move forward in this blog by learning the various types of Cloud-based ERP system software. There are multiple types of Cloud-based ERP system software: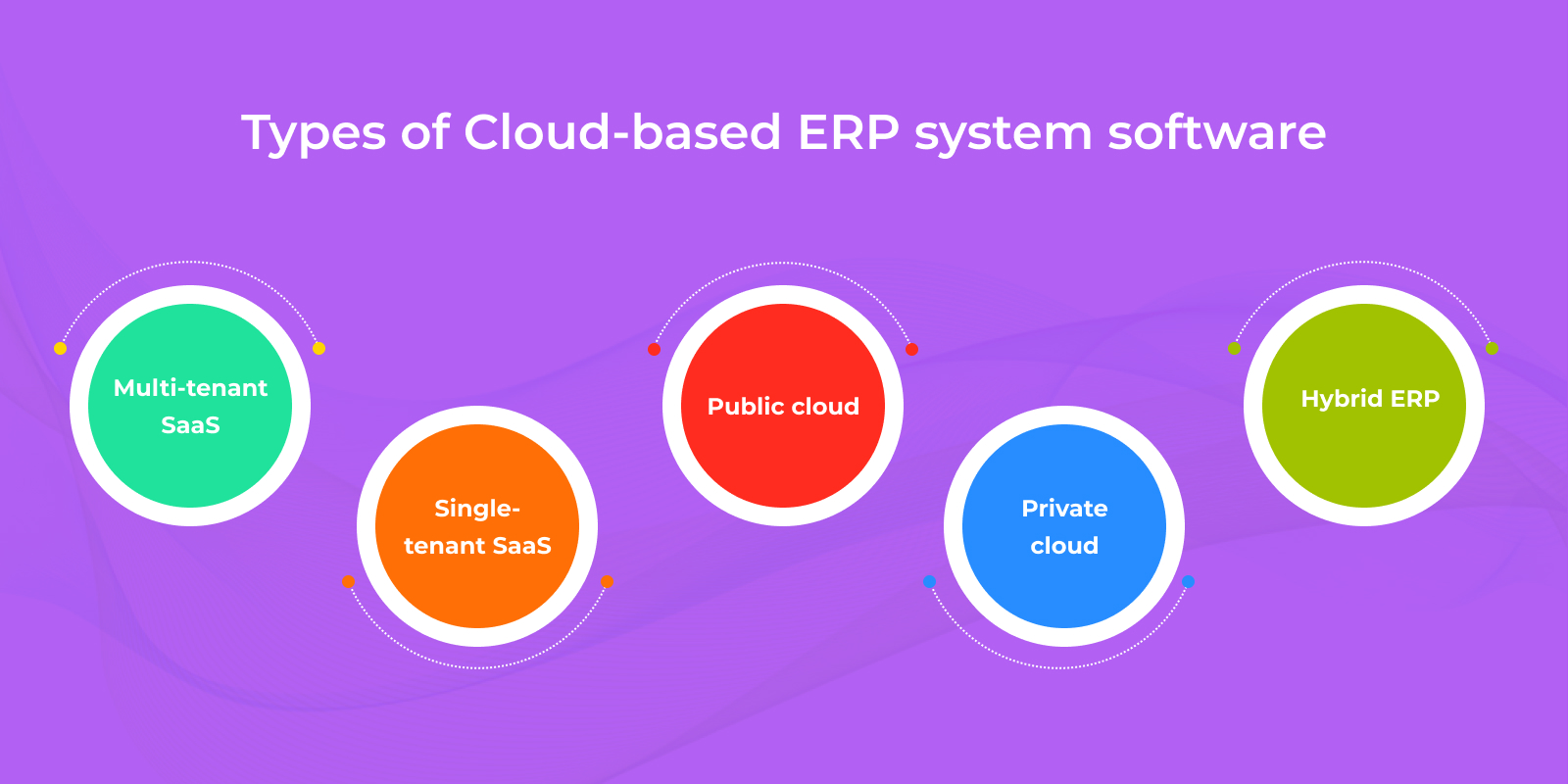 Now, let's dive deep into each one of these in detail.
Multi-tenant SaaS:
A multi-tenant is a version of ERP software. Multiple organizations can use this ERP software. This type of Cloud ERP is affordable, and the provider manages the software and hardware according to the user's requirements.
The benefits of multi-tenant SaaS:
Here are the reasons why you should consider a multi-tenant SaaS ERP solution:
The software is updated automatically and enables the users to access the current version.
When software is updated, it doesn't interfere with the user's activities.
They are cost-effective.
Single-tenant SaaS:
Single-tenant is a version of ERP software that only one organization uses. This type uses a private server to host every organization's data. In single-tenant, users can decide if they want a private or public instance.
The benefits of single-tenant SaaS:
Here are the reasons why you should consider a single-tenant SaaS ERP solution:
It doesn't share its infrastructure with any other organization, which boosts data security and flexibility.
Hardware and software are customizable.
The hosting environment is easy to shift from one to another.
Public Cloud:
Many organizations use the Public Cloud, but each organization's data is private and inaccessible to others.
The benefits of the Public Cloud:
Here are the reasons why you should consider a Public Cloud ERP solution:
The infrastructure is cost-effective.
The system has multiple interconnected servers, and the downtime rate is low. Also, if one server fails, it doesn't affect the other.
Private Cloud:
The Private Cloud is a fully private ERP type. No other organization shares this cloud.
The benefits of a Private Cloud:
Here are the reasons why you should consider a Private Cloud ERP solution:
The servers are cost-effective as you don't have to invest in them.
You do not have to share server resources with others.
These are accessible from any place.
These are scalable and agile.
Hybrid ERP:
Hybrid ERP is a combination of on-premises software with Private or Public Cloud
for storage and computing.
The benefits of hybrid ERP:
Here are the reasons why you should consider a hybrid ERP solution:
The infrastructure is cost-effective and easy to install.
These are unit-wide resources and are less complicated than an organization-wide ERP system.
To Summarize:
Among all the types of Cloud-based ERPs, it is wise to choose the infrastructure that will be the best for your school. The best cloud-based ERP school management system can help your school grow. These services can help your school by increasing the trust between organizations and students.
Using an advanced education system help schools improve their reputation and can attract more parents. Parents prefer sending their children to schools that provide good education and schools that give them a sense of safety regarding their children's data and information and can help them track their activities. For that, you will need to take the help of experts who have good knowledge of cloud-based ERP services.
We at jiSchoolERP have a team of expert developers with sound knowledge of cloud-based ERP services. Our developers are helping schools grow by developing cloud-based ERP School management systems. If you are looking for the best cloud-based ERP, Contact us.